I started the afghan a while ago and here is the first panel (not boarded and of course no ends weaved in).
For those who don't have the pattern, you work these panels first, 11 of them. These are the end panels. So the top of this picture shows the edge of the afghan (minus the boarder).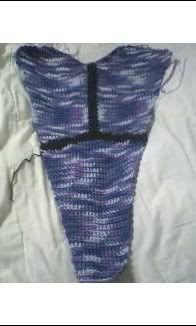 Close up of the panel:


It's not too hard. Just single crochet and changing colors. I just carried the yarn under the long black ones until it was too long then used another strand from the end of the yarn until I could go across with enough stitches for the verigated.
I am using the Blueberry Pie it suggested because I like blue.