This afghan will be for a friend and her family. It's going to be the step look, where the first square is blue in the first row, as shown below, then the second row, the secon square will be blue, then the third row the third square will be blue. On a diagonal.
I have the first row done, but to show it better in a picture, here are the first 3 squares as well as more pink I did last night. It's just 3 colors: blue, pink, purple. With a verigated (Artist Print) around them.
Close up of squares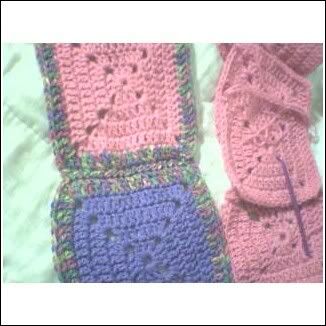 I'm just using a solid granny square.
There's a pattern here:
http://pumamouse.com/crochetbasicgrannys.html
if you need one. I just do (2 dc, ch 2, 2 dc) in each corner. I also join different then most methods. I join the first round with a ch 1, sc instead of ch 2 sl st. Then the next round I start with ch 2 (I never start with ch 3 as I crochet very lose) then I dc around the sc. That round ends with (2 dc, ch 1, sc on top of ch 3) this puts me in the corner of the round. Then I don't have that ch in the middle of the square. It almost makes it invisible. The last round before starting a new color, I do the ch 2 join with sl st to end.
I'm leaving a long, very long end of the verigated to sew the squares together and weave in the ends at the same time.