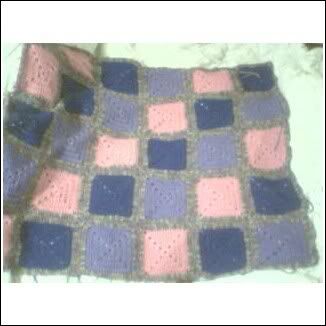 Not the best picture, and it must have been on something in the upper left hand corner... lol... but you get an idea of where I'm at with the afghan.
It will be 6 squares wide, so that's the width. I will, of course, add a boarder. Then it will be 9 squares long.
The square in the upper right hand corner was the first square and there's a little piece of yarn to mark it and the right side.
And of course, ignore the ends hanging out around the outside.... you know how I feel about those. Plus I thought I could do them while watching a movie on a cold day. Although I may start now as it looks like there's a lot (and there is). Not as much as there could be as I'm leaving a very, very long end to sew the squares together and that weaves in the last end.