Close up of the scarf so you can see the colors (a little).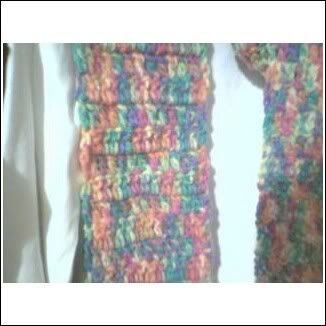 ```````
This is the full picture fo the scarf. Yes it's long. I just did 15 ch and so I had 13 stitches across. I know my friend will like it for Christmas.
If you want to see a picture of the yarn, doing a search I found it here (the red heart site wouldn't open the page) :

Yes it is a VERY bright yarn. And yes my friend likes those kinds.
PS: I am working on the afghan. I actually have it finished (minus weaving in the last few [hundred] ends.... okay maybe not hundred, but a lot. I took a picture and it ended up bad... real bad... so I may wait until Saturday when I can use some sunlight.