I saw a pattern. Printed it out. Found out you had to do 3 pices. And the "rose" was 2 parts each one long piece you had to roll up and sew together. That's why it was 7 pages. No thank you.
So since I was at lunch with no computer, I just made up one. I decided to do the Irish Rose style. Then since I had enough SC in the first round, I then SL ST to the back and did another Irish Rose on the back. Then I did the chain. No fastening off. All one piece. I think it's kind of small, so I may try another one (after I try this one out) with one more round or petals.
I used peaches and cream WW yarn and one strand of size 10 thread (I read another post while searching for scrubbies or bath puffs that the size 10 helps make it more scrubby, so I thought I'd use both strands together).

[clickable]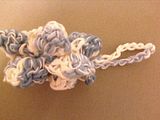 [clickable]