I did some more squares for my Babette. I had some 3 round pink ones and some 3 round purple ones and these are what I did with them. I'm not sure if I'll leave them as 4 rounds or not. I need 49 of the 4 round ones, so maybe. I added a shadow to maybe make the photo better.
This next one is one round of the pink (I frogged [ripped, ripped out] the remainder of the pink), added 2 rounds of the Kelly Green and 1 round of Orange:

This next one is the 3 round purple and I used the pink from the above square I frogged.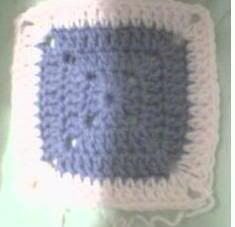 I still have a lot to do, so we'll see what I'm doing with these. I have a spreadsheet I created to print and I am writing down which color I use for which round to keep myself organized.