This one is showing all that I have done. The very large one is the first panel. Then below it is the second panel, the right side is the 3rd, then left side the 4th. I think. LOL. I don't have the diagram right here and that's how I did it, so I 'm sure that's right. Above the large 12 round one will be the 5th I'm sure because it extends to the left side to add the 6th. I did the 7th, below at the bottom because I was going to start there. Then decided since I had the big 12 round one, to do from the center. The lowest right one needs to be frogged to be put on correctly... You can't tell but the top left is a very bright pink.
Oh I do have the center panel (1-4) all ends weaved in!! The lower bottom I don't have all of them weaved in, but will...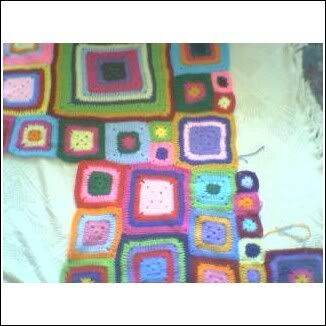 Here's a close up of several squares. The top center is the big 12 round one.
And Here's a close up of a few squares.

And here's a close up of a few squares.