Front of shawl
(Sorry for the somewhat blurry pictures, took with cell phone camera... one day I need to splurge on a "real" digital camera, until then this will suffice):
Back of shawl (not sure why it has the arrow, but it's verigated, so that's what happened):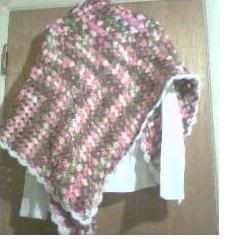 Close up:

This is very very easy to do. Start at the bottom and work my way up. This is the second one I did like this. http://i69.photobucket.com/albums/i67/Debbi-a1/shawl08-15b.jpg is the blue and pink and white one I did.
I used Red Heart Super Saver Worsted Weight Yarn, Pink Camo for the center and white for the boarder. Took about 3 skeins of the Pink Camo, leftover white. I can't remember the hook size, probably an H. I did this a while ago and realized I didn't even post it on Crochetville and was going to wear it today so I took a picture to post.
If you'd like a pattern to one similar (very easy to do), Here's one:
Half Granny Square Shawl
this is just like the one I did.
Half Granny Square instructions
this one is similar but a little different but looks as easy and very popular pattern.