From the LionBrand website.
Pattern: Elegant Shawl
http://www.lionbrand.com/patterns/chs-shal.html
I changed it.
Yarn: Red Heart Super Saver Worsted Weight, It took about 1 1/2 skiens of RH yarn. Nope, not very much. Oh I didn't do all 30+ rows. I did 28 which was enough for me. I liked the size.
Color: Orchid
Hook: I
Front of shawl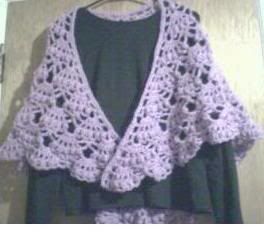 Close up of stitches. I changed the last row. I did not do the chain on the last row, so on the row before I did just a sc between the puff stitch sections.
NEW PHOTOS--updated March 2012. Wore it today and took some better photos. These are more pink tink, but better stitch definition. It is more of a purple/orchid color.
...
...