I slept pretty good last night and woke up way too early and had time to start a new WIP
....
I started this bag because on Crochetville they have a St. Patrick's day CAL (Crochet A Long) and in this group someone decided to do just basically a GREEN type call along with St. Patrick's day items. So I thought a cotton mesh shopping bag.
...
Pattern: Crochet A Day Calendar, May 2006 (adapted to fit my preferences and yarn choice)
Hook: Size H Yarn:
Peaches & Cream in Geen Multi
...
So it's not big enough to be a shopping or market bag, but it's big enough to be a WIP bag and it's a good first mesh bag to try. I see where I would change a lot (I all ready did).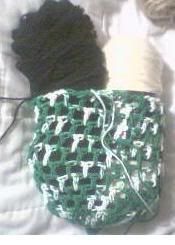 UPDATED TO ADD:
FINSIHED! I was able to finish it at lunch. Okay I couldn't fasten off, didn't have scissors with me.... but other then that it's done. I will only have 2 ends to weave in, first and last. Here's a pic with it and you can see how small it is with a regular size sheet of paper under it.

Here it is stuffed with my cone of yarn and my little notebook, so it does stretch if I needed it too.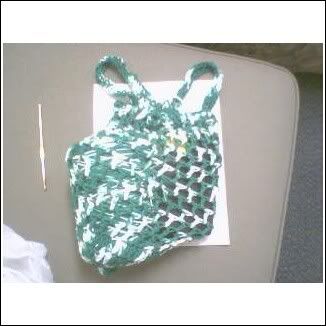 I was thinking this bag might work good to hold my other market bags in... or wips... or shoes... or...