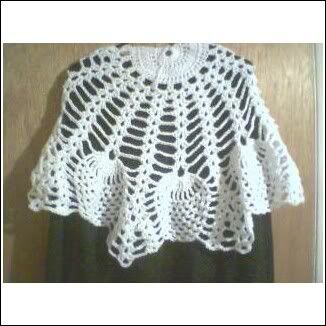 Even though I'm not done with it and am going to work on it some more, I wanted to see what it looked like on and post a photo here. And since I decided I was done with a skien of yarn, this would be a perfect time to take a picture. I have just a little left of the skien but since the next row is the 14 trc in those ch 5 loops (the center shells between the pineapples) I decided to start a new skien.
I am loving this look. There are 2 more pineapples around the front of the shawl.
I have 2 more rows of pineapples to go.
The previous post (2-12-08) has the link to the pattern and more info if you missed it.