I needed something else to do besides squares. For a little while anyway. I found this yarn and thought it looked spring like. So I bought a bunny from the dollar store and made her a dress and hat.
Here's a close up of the hat: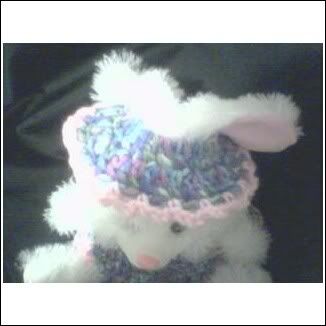 I used Red Heart Yarn, Worsted Weight, in Monet and Pedal Pink.
Just made up the dress and hat (have done that before), no pattern at all.
Not completely happy with the hat, but I was tired and didn't want to do a brim so I thought this looked fine.