Kind of blurry, but you get the idea. Done in Red Heart Worsted Weight Yarn, I crocheted the eggs (not the peeps... still eating those... ;)
9 squares for a charity. They're 8 inch.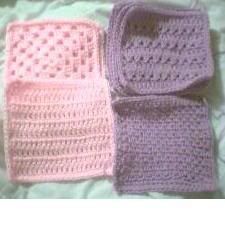 I did more squares then that but at first I thought I did a TON not accurate to size. So I put them to the side. Then I started an afghan. This morning I checked my suqares and only 2 weren't very good. One I can add to and it will be 8 inch. The other is just too big. It's done in rows. I suppose I could frog it and redo another suqare. I may stick to the granny squares as they end up a perfect 8 inch.