Saturday I wasn't feeling all that great (a little sad, that time of the month) so as I was cleaning out my purse I found the pattern for the 5 1/2 hour afghan I wanted to make. Decided against it. But then at Walmart found some Light Sage and other green (can't remember the color now, lighter though) and decided to try this out. Took less then 6 skiens. Used an N hook and 2 strands of yarn. It wasn't very wide, so I added a V-St edging, did 3 rounds of that. I don't know if it's as wide as I would like it, but it's fine.
Close up of the corner, which ended up round, which I love.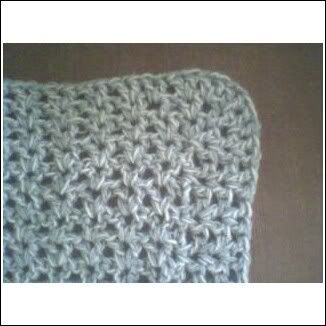 Close up to see the 3 rounds of edging.

Not sure if it took me 5 hours, but less then half a day at least. Started after 11 am, ate lunch, crocheted, took a nap, crocheted, did some other things, ate dinner, crocheted and finished before 7:30 pm.
I'm going to have to remember this pattern for the future when I need a quick afghan.