Here's a picture of me sewing the shoulder seems. I decided on a "wrong side" and sewed it together in the back single loop of the stitch.
Here's another picture that might be better: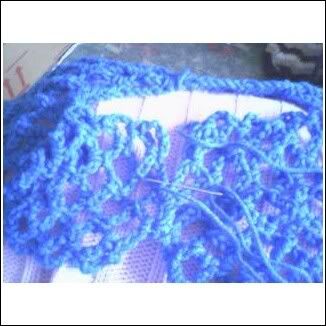 Hhere's the finished front. You can see the start in the last page. This also shows a close up of the boarder. Just one round of single crochet.

Okay, this blogger loads it weird, and I can't figure out how to change it... here's another shoulder seem. this is what I decided was the "right side". This was before the boarder was put on.

I added a tie. I chained 50. I found with ties, I'll tie it on one side with a very tight knot and leave it on that side always. This way I don't lose it.

Part 1: Link to pattern and how to work some parts of the vest.