Finished the purse.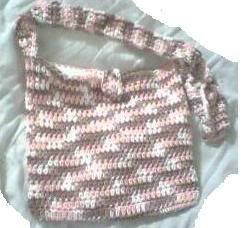 As you can tell I added a cell phone holder with a tie (so I can tie it shut so the phone won't fall out...) and a loop, which was the first tie for the cell phone holder since it wasn't long enough I then decided to make it a loop hook. I crocheted aruond a bead to make the button.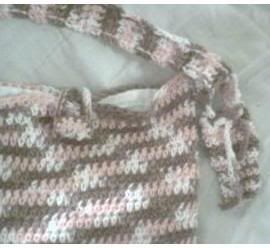 Close up of the strap, button, lining (just basic white fabric) and cell phone holder.
Pattern: Just made up. I did a chain until the width I wanted, did a row of double crochet, decided it was too loose, next row hdc, liked it and kept going. Didn't frog (I hate frogging). Worked fine I think.
Yarn: Peaches & Cream Cotton yarn, it was called Mocha Swirl. I like Neopolitan name better. Reminds me of Neopolitan ice cream :)