Frist because the way blogger uploads pictures... my walmart find. This cotton yarn was just so cute. It's pink, white and brown. Reminds me of Neapolian icecream :) I decided to make a purse out of it. Just simple. I just make up the pattern. Chained until it was the length, did a round of SC with 3 SC in each end, then a round of DC and then I decided to try HDC and have kept it at that for the reaminder of the purse. Using an H hook.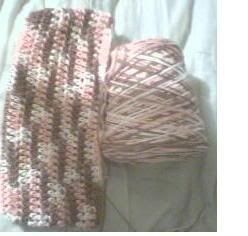 Books & yarn I found at 2 thrift stores.
Magazine and leaflet only 50 cents, hardbound books $1.
Top left "Knitting & Croceht Patterns" I think all wearables. Top right, "Rainbow Baby Afghans". There's a cute corner to corner. About 8 afghans. Bottom left "Old Time Crochet, Spring 1991". Cute shawl and several doilies and a few tableclothes. Bottom right "Top Techniques & special Stitch AFghans" has some afghans using different stitches (tusion, broomstick lace, etc.).

Heres one of the pattens in the "Top Techniques & Special Stitches Afghan" book. It's a sampler afghan with a lot of sample squares.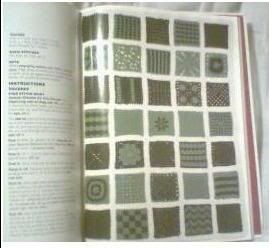 And here's the yarn I found. 2 skiens of new RH WW. The Teal looks newer and in great contdition. 2 Aunt Lydia's size 10 and one South Maide size 10. The Teal was $1, the others weer 50 cents.


That's about it for today.