Double Wedding Ring Afghan Started.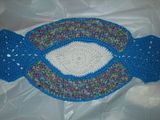 [clickable photos... sorry for the back ground, I thought it would work, but that's fine, just look at the crochet piece... lol]
Wedding Ring Crochet Quilt
- link to pattern

I'm using Red Heart Worsted Weight Yarn in Monet, Deft Blue and White. Using a Size H hook.

Yes I have a few other wips but I've always wanted to make this and this pattern seems pretty easy. So far it is.
I'm whipstitching the pieces to gether to have them lay flat. They don't in the photo of the pattern and some say that's how it works on other patterns too for this "quilt". So far they are flat. I guess I'll see when I get to the center piece and the other parts like the one's above.
I did find having a stitch marker helpful in the verigated pieces. Those are long (38 rows) and I don't like counting the entire thing every few rows to see where I'm at. I have some plastic split ring ones that work perfect.
Mine is going to be BIG BIG BIG. The white piece above is called an "eye" piece and it's suppose to be 6 inches from corner to corner with the blue boarder, but mine without the sc boarder was 9 1/2 inches! So yes, this will be huge. Probably 70"x90". But that will be fine with me.
Debbi