Oh I haven't posted. Either I haven't wanted to crochet or I just want to start something new or something.
Last Friday, May 23, we had to put our male dog to sleep. :cry: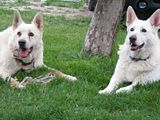 [clickable]
The male is one the left and the female on the right. This was taken early in May. You can see he's not very well, but trying to be well. I wondered if his legs hurt because you can see he had been licking them. He was about 12. Our female is about 9. I took a ton of pictures with my digital camera and now I'm really glad I got it. I have about 200 but of course, not all are that great. I think maybe 50-75 aren't that great (the dogs moved or I moved).
Not much to post as I started 2 new WIPs :blush:. LOL. I am almost finished with them, but not yet and since the finishing usually involves sewing or weaving in ends, it could take a while... lol.
I am working on the Double Wedding Ring Quilt pieces. I can do those easily at lunch at work or I did some last week at the laundry mat while I was waiting.