Decided to make an MP3 cover to carry my player in easily. I used a pattern idea from Crochet magazine, Setp/Oct 07. I used my left over yarn that matches my purse, the Peaches & Cream cotton in Mocha (pink and brown and white). Used a Size H hook and all single crochet. I made the strap long (not too long) so I could wear it on my shoulder to neck. Yesterday I used it while I was filing at work and it made it so much more bareable. I hate filing :( .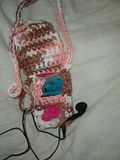 [clickable]
This photo shoes it closed and it fits nicely and stays (so far). Also shows the magazine cover.
[clickable]
I wanted a cover so I can carry it at lunch or whenever.
I figured an MP3 player would be nice, then I could put Autobooks on, I love to read but also love to crochet, so this way I could combine the two. Plus I love music, so then I can listen to it too. And listen to the music I want.