I needed a break from my DWRQ so I did this project, then wanted some quicker to finish ones. So I did the cozy & eye mask.
But kept going on this bag as I want to finish it.
Here's where I'm at with this bag for now. The pieces laid out (one 4 strip has all ends woven in except the very end to sew to the other pieces).


Close up with a better idea of the color.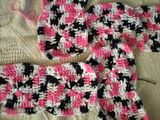 [clickable]

Using Peaches & Cream in Black Cherry.
Using a Size G hook
Sewing pieces together.
I will be lining it. I crochet loose so the squares are 6 inches.
Not sure how much yarn I used, I just bought the big cone and used that. There's still a lot left. But that will go for the handle and edging.
Pattern:
http://www.stricksucht.de/anleitungen/crochetedbag.pdf