I decided to make another holder.
I started with SC and then did Triple Crochet for a belt loop (I crochet loose so it works for me for a small belt), then sc on the top. I can't remember the color of yarn, I just used left over yarn. A size G or H hook (thsose are the 2 I've been using forever.
The next morning (I crocheted it at night) I decided a belt wouldn't work with my skirt and I would want to carry my MP3 with me. So I sewed on a pin on the back.
Then I thought if I exercise (yea it's kind of out there somewhere that I may), I would want a arm holder. Even at walmart they were $10 for the cheapest. So I crocheted the arm holder and added a button. Did it in black because it's removable and I can add it to another color holder if I want. I just did sc and did a sl st on the edges so it wouldn't stretch too much. But it onlytook about 15 minutes to make, with a tiny amount of yarn, so no biggy.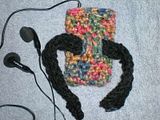 [clickable]