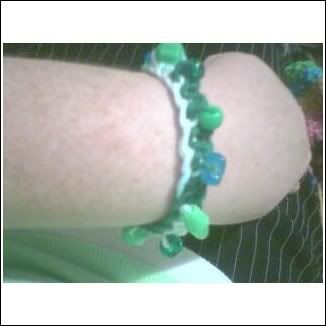 Okay a very bad bracelet. Done with worsted weight cotton yarn, size H hook and large plastic pony beads. Just a chain stitch and then sc with scbead in between. I decided to try it because I needed a bracelet to match my lime green shirt ;)
Another photo of it flat (ignore the colorful crochet piece next to my leg... that's part of a UFO).
So what do you all think of this, please post a comment about my FO, I would like honest opinions (even negative ones).
I just want to know which direction to go to.