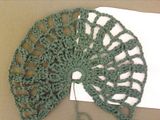 [clickable for larger photo]
Large view. I actually had one more round, similar to the last row, so no biggy... but my camera stored it on the card and I can't figure out how to find the photo... LOL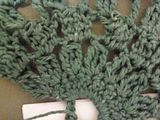 [clickable]
Close up of the yarn to see the white spots. It's from the recycled plastic bottles (I think). One skine uses .6 bottle, yes that point-six. But still that's something.
This yarn is soft, but doesn't split as much on me as the regular SS, you can see one slit in the close up, but that's about it. It's pretty easy to work with. Even with the J hook. And I crochet loose.
I do like this yarn. And it's not too expensive. Only $2.23 at my walmart They did lower the Red Heart Super Saver to $2.00. However this is nice and soft and pretty easy to work with.

I decided to do this shawl. I was going to, then found another one, but couldn't figure out that pattern so I went back to this one.

So far, very easy to do.


Pattern:

http://www.caron.com/projects/ss_eco/sseco_pineapple_shawl.html

Hook size: J
yarn: Caron SS Eco in "Woodland"
````````````````````````````
PS: Please see my previous blog post and give me your opinion of my bag, I really would like some... Thanks!