More snowflakes.
Size 3 thread.
Size F hook.
For my coworker who is buying them for $1 a piece. She loves all that I give her.
```````````````````````````````````````
I have other crochet to post, but my camera isn't cooperating. Actualy it's the software. It said it transferred all to my C drive but I can't do anything with them. Then when I try to retransfer them, the software shuts down. And to top it off, I don't know where my CD is... ugh. I hope I didn't accidentally recycle it. We got a new recycle bin from our city and I was making sure I put all my cardboard in there and the box the camera came is is cardboard. I'm thinking I didn't, but I'll have to look or find a way to get the software off the internet from my work computer onto a flash stick to put on my laptop.... I think I'll look tonight to see if I can find the disc.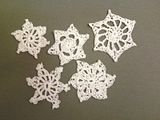 [clickable for larger photo]