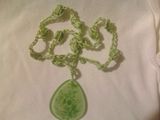 [clickable]
Using the idea from the Lionbrand Bobble Necklace, I made this.
http://www.lionbrand.com/patterns/70007.html?noImages=
I didn't have the pattern and just made the bobbles as big as I liked.
I found a pendant at Micheals and the size 3 thread there too. I used an F hook. Luckily the pendant had a big enough hole to put the thread through. I looked for beads to match or something else to work and nothing did or it was beads I didn't want to work with (too small), so I thought, I'll just crochet it! I was looking for something lime green anyway to match a new lime green sweater I just bought.
I'm glad Micheals had the thread so I could match the pendant.