Crocheted this weekend. A lot. Yep all this was from my stash. I made a few small things to counteract the large afghan I'm making for my friend for Christmas.
All clickable for larger photos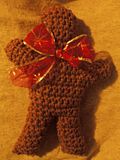 Made this using the Crochet World, December 2008 pattern for the gingerbread doily. I just used yarn instead. Size H hook. It's about 12" tall. I left long ends on the pieces and used that to sew it together except the very last part which I didn't have enough. Used left over yarn on this too!
Joined the snowman CAL at crochetville and finally made a snowman. I just made up the pattern. Found some white yarn (left over from something) and decided to make it.
Was waiting on someone and made some WHITE snowflakes out of some left over yarn. I was too lazy to weave in ends so I just used those as the ties.