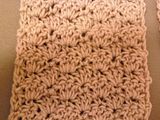 [both clickable for larger photos]
Since I finished this one first, here is the January scarf. Yes I have another I just need to fasten off and weave in ends and that will be my February scarf.
This one I just made up the pattern. I started with DC and then decided that was too boring so I changed it on the 3rd row by doing the (3 dc in one st, sc), that shell pattern . Then the last 2 rows are dc to make it even.
Yarn: ww yarn, about 6 oz
Hook: 6mm plastic