My coworker asked for some crochet hearts. I made these.

These first 3 are from the free pattern from Crochet Today
http://www.crochettoday.com/pdfs/CTJF08freepattern2hearts.pdf
[clickable]
These aer from the new Crochet World, Feb 2009 issue. It's the one on the baby hat. The first smallest is without the boarder. The second is with the boarder, but used the same color. The last is one with a boarder I just made up. I wasn't sure what size she wanted.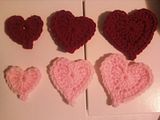 [clickable]
She wants about 9 more, she liked the one in the center in the second photo. That was the size she liked and the look she liked. That's good, they're easy.
I used Red Heart Yarn. Not sure of the exact color, it was left over without a label.
All done with a Size G hook.