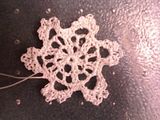 [clickable]
Size 10 thread
Size 8 steel hook
About 3" in diameter.
Pattern:
http://gardeners-ramblings.blogspot.com/search/label/snowflake
[note: there are some mistakes. Round 2 you skip the first "dc in dc" because there is no dc from round 1... then in round 4, it didn't say what to do in the SC you did in round 3, so I just slip stitched, sc would also work I'm sure].
I like this snowflake. Very quick and easy to make.