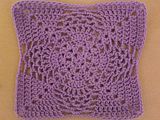 [clickable]
I decided at lunch I have time so I'm going to work on a sampler square afghan. I've always wanted to do one, but I did most of the 63 Squares to make an Heirloom Afghan as dishclothes, never go the second book (More Squares), and got lost on the first square of the 63 Cable Squares. Plus that's 63 is a LOT of squares, although doable. Maybe one day. For now it's these.
I thought 12" squares would be easier. And I'd only need 20 squares for an afghan.
I was able to do this one in under 45 minutes, so it's a good square if you need something fast.
This square was suppose to be 10" but with my crocheting so loose, it is 12". So I'm going to have to watch the squares I choose.
I used a size H hook.
WW Red Heart yarn in Lavendar color.
Pattern from:
http://www.spatulagraphics.com/krochet/sq_ten.html
(she has a pdf document with several size 10" squares).