This square comes about when you can't sleep. Find a magazine real easy and start crocheting. After 2 nights of being up in the middle of the night, this is the result.
First the close up of the center because that's the way Photobucket put it... and I'm not good in the html edit section of here...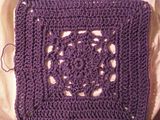 [clickable for larger photos]

Pattern: Crochet World August 2003, Bright Blossoms Afghan.
I of course used one color, in the afghan pattern just about every round was a different color. Round 7 seemed like it was a mistake because they mention skipping a stitch that was used about 3 rows below... I didn't finish reading the round so maybe it's fine. I just decided to do sc around and then rows of dc.
Size H hook
Red Heart WW yarn in Lavendar (as usual).
Square size: 12 inches.