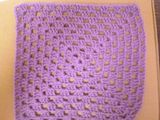 [clickable for a larger photo]
Just a simple, easy granny square. Nothing fancy. But I want that. Actually some people do have trouble with these and I did too when I first tried one. I remember it said "rep 3 times" and I ended up with 3 corners, how was that possible, it was suppose to have 4? Took me a while to figure out how to read instructions and that the first corner was formed at the end. Actually I think the instructions I followed weren't written very well. And there really wasn't a good photo of the granny square. I thought they looked easy. Once I caught on, they were.
Size H hook
Red Heart Yarn in Lavendar.
12" square