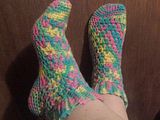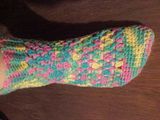 First pair of socks.
Barnat Sox yarn.
Size c hook.
Pattern crochet today sept oct 2008 issue. very adaptable pattern. I changed the toe amount of stitches and did not do the linked dc on the bottom, it took too long to do and made it looser (or so it seemed), I did dc on the bottom. This pattern requires no sewing but I decided to whip stitch the heel so ther would be no seem. Almost one piece start at toe work cuff fo then attach yarn for heel.
Found the pattern on line (while looking for my next pair pattern): http://www.knitandcrochettoday.com/episodes/pdf/KTV2005C.pdf
Or here http://www.redheart.com/FREEPATTERNS/tabid/118/Default.aspx?patternid=KTV2005C.pdf
I plan on making more socks.
ETA some more info on the socks for those who may want some help:
First I didn't do the guage, I figured by the time I did that, I would have the toe and part of the foot done and could check that way easier. So that's what I did. Yes I frogged the first one and made a smaller toe with less increases instead of chainging the hook size. I noticed it said that you could make the toe any size you want (at least I thought so with this part "Try on your toe. It should be almost wide enough to fit around the widest part of your foot. Work an extra round or two if necessary." I thought it meant more or less increase rows, and really you can do that. I just made sure to divide the foot between the bottom and top. I think my bottom foot even had an extra stitch.

I didn't do the FSC because mine always end up way too loose and too long. So I just chained a good length for my foot to fit over my heel. Looking at the notes I made, I chained 24, which is what I've done on most patterns since too. I just made sure it was even amount to work the pattern stitch.

I didn't care for the cuff on this, mine ended up really loose. But I can fold it down, so that's fine. Next time I'd either skip some to make it tighter. But it was fine and a good learning experience.