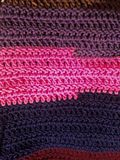 [clickable]
Just to do something with all the left over yarn and make it easy on myself by not having 100's of ends to weave in, I started this.
It's just simple double crochet, with an I hook. I just stop using a color when I run out. I think on some I will stop if there's a big knot and it's not worth it to untangle (takes more time then it would to crochet another color).
This is also very relaxing. Something simple but keeps my hands occupied.
And I won't get bored, I finish one color quickly and start a new one. So far I haven't.
I thought the photo was better then this... The bottom color is burgendy, then dark blue, then bright pink, then lanvendar purple, then brown.