I made my second pair of socks!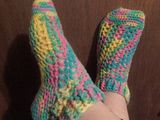 One sock close up:
[clickable photos]
I used the Vee Socks for Me pattern but adjusted it. I didn't do the v-st in the bottom, wanted a more solid one, so I changed it to a double crochet. I just divided up the top from the bottom.
I didn't make them very long because I didn't think I'd have enough yarn, but I did and a bit left over for a toe and heel and maybe a little of a ribbing.
These were really easy, however if you don't know Front Post DC or Back Post DC then the ribbing can be a challenge. Or you can even change the ribbing.
Yarn: Bernat Sox, Hot Tamale color
Hook: Size C
Pattern:
http://wovenspun.com/veesocks.pdf