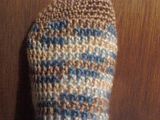 [all clickable for larger photos]
Yarn: Used Bernat Satin Sport a Size 3 yarn.
Hook: Size 3
Pattern:I kind of made them up. I used the
Snow-Day Socks
idea of HDC , but did mine from the toe up and then an afterthought heel (heel done after). Since this pattern suggested a size 3 yarn, I decided to give that yarn a try. I don't find it much thicker then a size 1 sock yarn (I compared it against my sock yarn). I changed the cuff and did a FPHDC (front post half double crochet) and PBHDC (back post half double crochet). I like these cuffs. They stretch out nicely.
I really like these socks. They are soft and comfy (same as my Berries and Cream Socks I posted yesterday which I wore yesterday).
These socks used almost all the verigated color, so I'm glad I did a different color for the toe and heel. I would have ran out. I have a pink/green/brown type verigated to go with this brown so I'll have another pair similar when I get to it. Right now I'm going to try a pair where I do the heel with the sock, without fastening off. I'm using just one ball of yarn so I can do this.
Edited to add (4-24-09)
I wore my Bernat Satin Sport yarn socks all day Saturday and they held up great! Wore them from 10 am to 11 pm. I didn't walk all day but they were in my shoes. I did move a lot (especially washing my car and shopping). But they held up better then the sock yarn in the toe area, thicker yarn I guess. My feet only sweat a little, not enough to worry about it.