Front:
Back:
Close up of the stitches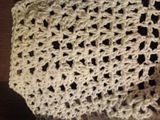 [photos clickable for larger photos]
I used the the
Double Crochet Shrug
(link to pattern) as the basis for this. That's the arms and back. Then I worked in a circle around the piece and made the collar and front. I just made that part up as I went along. Because I was trying to hurry I made a ton of mistakes :blush: but oh well, it's still pretty nice.
I used about 12 oz of Red Heart WW yarn.
I used a Size K hook.
The DC Shrug is VERY EASY. It can be made to fit any size arm and any length you want. And takes only about 4 oz of yarn (if that).