Working on a new purse I made another button for it and thought I'd share how I did it. I'm sure there are lots of ways to make them and this may be posted elsewhere, but I don't remember seeing it anywhere.

You can use any size hook and yarn you want. I think I used a Size H hook (made it last weekend) and Red Heart Worsted Weight Yarn.
First start with a chain 4, then 12 dc in it (I chain 3 for the first dc) Fasten off. Weave in beginning tail. Leave LONG end.



Take that long end and weave it around the top of each double crochet. Just a whipstitch type stitch.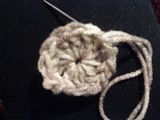 Next pull that tight. Thisis the back of the button when pulled tight. You may need to use your finger to keep the right side out (put your finger in the center and when you pull tight, it keeps the right side out). Weave in that end. I like to go through the front of the botton a little to make it flat. I suppose you to "stuff" it if you wanted. Or even put another button inside of it. Maybe a shank button if you want. Or even use this to cover up a button.

Finished project:

I added a chain loop on the opposide side of the purse.
The purse is still a WIP, as I need to sew on the strap and sew in the lining (hate sewing). I would like to get it done as my current purse isn't looking brand new (probably just needs a washing).
I used RH WW yarn on this button and purse.
Debbi