I got behind so now I'm catching up as much as possible with these. I need 15 to be up to date, I counted 15 weeks since Jan 5 (the first Monday of the year). Of course it really doesn't matter, but it's fun that way.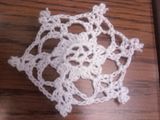 [all clickable for larger photos]
Made up pattern as I went along. The last one I decided to do a more of an open one, sort of.