Someone said this looked like spring colors, so that's why I'm naming it that. Besides it's better then "Easter Basket" the actualy color name (if I had read it I would have made these over Easter ;) .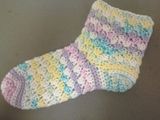 [all clickable for larger photos]
As you can tell they are comfortable and I did not want to put back on my shoes after putting them on for this "photo shoot". These ones I made a little longer so the first one would have more purple (it ended in purple). I don't have a pair that has purple in it. And I purposely made them different, not trying to match up colors.
Yarn: Barnat Baby Jacquares, Easter Basket color
Hook: Size D
Pattern: Made up. I did (3 dc in sc, sc in center of 3 dc) type stitch.