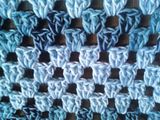 Yes I made this in a weekend. It's not as big as I would like, but I was pretty much out of yarn and it was fine. And I wasn't feeling good so I was ready to stop anyway. Plus my
Cardi
is on hold until I decide what to do with it (yarn, stitch, pattern, etc), so I decided to crochet this afghan.

I used Red Heart Worsted Weight Yarn Super Saver and a size K hook and 2 strands of yarn.

I used Spa Blue (I think it was called that), 3 skiens, 2 skiens of white, 2 skiens of a blue verigated.

I did just a basic granny square. I've never done one with 2 strands (I think), so I decided to give it a try. Usually I get bored, but I figured with 2 strands it would be quick and I would get it done fast so I wouldn't be bored with something like this (my retangle one strand granny is a UFO).