This week there's a CAL on Crochetville to work on WIPs. I found a scarf in my drawer and luckily had the hook with it. The dishclothes only needed ends weaved in.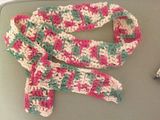 [all clickable for larger photos]
The scarf was made with thrift store yarn, 50 cents, called Caron Wintuck, Color: Strawberry Fields. I got the yarn for the pattern on the label, the "Rose Trellis Afghan & Pillow". I have a little left, perfect for my ugly scrap yarn afghan I'm working on. The scarf is only a couple inches wide.
The dischlothes were made with LionBrand cotton. I don't remember the patterns, they've been in my drawer for a while. I completely forgot about them until today...
I'll be working on more this week. Most of my WIPs are ends needing weaving in. Or frogging.