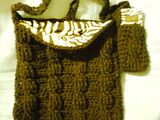 Not the best photos, black yarn doesn't work well. I even tried a bunch of different settings on my digital camera. I wanted to make sure you could see the cables.
You'll notice the lining matches my cell phone cover... :) Handsewn lining. I remembered learning a long time ago to use 2 strands of thread when sewing on a button so it will stay on longer, so I did that with this lining, used 2 strands of thread. I hope that will help. My last purse the lining came out.
I have a key fob, which you really can't see.
Pattern:
http://www.woolcrafting.com/cable-hat-purse-neckwarmer-pattern.html
Yarn: Red Heart Super Saver, Black
Hook: Size J