Here's a few tips that I found while crocheting some socks.
TOE:
In this first picture you can kind of see where I have the starting end. What I did was as I was crocheting the first round, I took the starting edge and kept it under the second part, so that would "mark" my starting edge. This way as I increased, I just looked where the "tail" was inside the sock. Or as I started the heel or whatever else I need. I usually leave a looong end so I can then weave it back under the first row, sort of in a zig zag stitch, to reinforce it.
Here is a photo of a top of a sock. The toe and beginning foot. Yes the toe is a very small area, the pattern called for that.
You'll notice with this picture the heel. This is one that I did with the heel included in it, not an after thought heel (done after). Notice where the purple on the heel connects. This is usually an increase and you work on the sides of the decrease (bottom). You connect to the sides of the rows on the bottom of the heel. (Ignore the wonky way my nylons went, I wanted to twist my foot to take the picture...)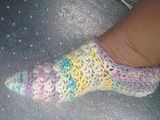 AFTERTHOUGHT HEEL:
Here's the same yarn, but a white heel (might help you better in understand the afterthought heel)
Here's another one (you may need to click on the link, sorry). It's a different pattern, but a close up of an afterthought heel.
Here's one I did that was with the front post double crochet and back post double crochet stitches.