Very easy square. I wanted a new purse. I decided to use this square as the basis for it.
Your First Afghan
by Katherine Eng from
Crochet Today! Sept/Oct 2010
issue.
I made 2 squares and then a sides using the same pattern stitch (starting in a point and working to the width I wanted). Then a strap. Cell phone holder is the same pattern stitch but done in rounds. It made it spiral. I sewed a key ring for my keys. Need easy access to my cell phone and keys.
I lined it with cotton fabric.
It's an off white. My photos were getting a reflection from the cell phone I guess… so that's the pink tint you see.
[clickbale photos]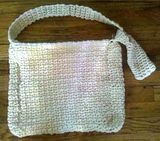 Cell phone holder, key ring for key chain, lining: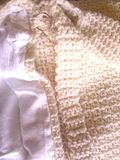 Side of purse